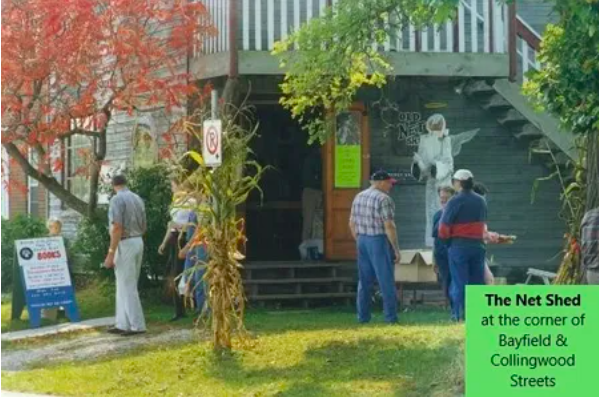 The Net Shed Used Book Store
Since 1994, the Friends of Meaford Library have operated the volunteer-run used book store in the century-old Net Shed, generously loaned to us by the McKay family. The lovely old wooden building, with its sizeable lawn, is located at the corner of Bayfield & Collingwood streets opposite the Museum.
We have chairs, & welcome you to sit & read beneath our huge shady tree.
Lots of parking, too.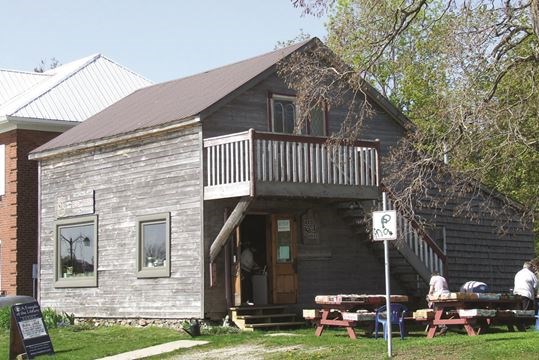 Come Visit
Thousands of gently-read books are sold here, for the benefit of our town's excellent public library. The Shed's overhead is very low, so virtually every penny goes to the library, to be used as they see fit. Our books are unpriced – payment is by donation, whatever you care to give. We accept cash and all cards, either credit or debit.
Hours:
Victoria Day through to Thanksgiving
Saturday and Sunday 10 – 4
Friday 1 – 4 in July and August
Holiday Mondays 10 – 4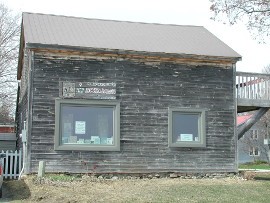 Book Donations
Due to space limitations, we prefer book donations on Sunday afternoon between 2 & 4 pm (up to 5 bags or boxes at a time).
Thank you for considering donating books. All stock comes to us through such donations.   We especially welcome donations of children's books.  We also accept CDs and DVDs.
What do we accept? In brief:
Top condition & fairly recent. We can't accept everything as some simply do not sell. Our refusal list is the same as used-book stores the world over. Please pre-sort, we have limited volunteer-hours to sort unsellable books.
We do not accept:
textbooks and encyclopedias
computer manuals or software
music cassettes, books on cassette
VCR video tapes
vinyl records
magazines (including National Geographic) or Readers Digest magazines or condensed books
items worn, torn or moldy.
If you have a large donation please contact us at the email below to arrange a drop-off appointment.
Thank you for your understanding.
Questions can be sent to: netshedcoordinator@gmail.com